Dr. LeToiya Carter-Robinson, DDS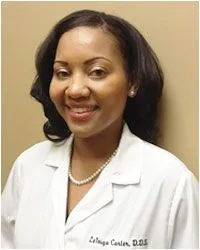 Dr. Carter-Robinson presents a distinguished and celebrated list of scholastic achievements in her field, being a member of the American Dental Association. Dr. Carter-Robinson's experience and commitment to advanced learning, along with her attention to detail and clinical excellence, make her an excellent and caring dentist.
A native of Decatur, Georgia, Dr. Carter-Robinson attended and graduated from Southwest DeKalb High School before attending Tuskegee University in rural Alabama. After graduating from Tuskegee, Dr. Carter-Robinson received her Doctorate in Dental Surgery from the Howard University School of Dentistry where she spent several hundred hours performing cleanings, bleaching, root canals, fillings and healthy dental procedures. She remains committed to using the most advanced equipment and materials in her practice thus enabling her to construct healthy long lasting results for each patient. Dr. Carter-Robinson is fervent in her practice to educate patients on oral-systemic health and deliver advanced methods of care to help ensure optimal health results. She is devoted to overall patient well-being.
Dr. Carter-Robinson counts her blessings every day. She is happily married and has a wonderful son who loves Thomas the Train. In her free time (okay, very little free time) you may find her watching a Falcons game, at church, traveling, and spending time with family.